De recentste bevindingen van de kankerbestrijdende DreamLab app geven ons nog meer reden om groenten te eten.
Het project van Imperial College Londen heeft honderden kankerbestrijdende moleculen gevonden in dagelijkse voedingsmiddelen, waaronder sinaasappels, kool en druiven, en ook diabetesmedicijnen en antibacteriële medicijnen die mogelijk kunnen worden ingezet tegen kanker.
AI en je boodschappenwagentje in de strijd tegen kanker
Dit project met de naam DRUGS (Drug Repurposing Using Grids of Smartphones) combineert Artificial Intelligence, mobiele supercomputing en big data om miljarden combinaties van bestaande medicijnen en in voeding aanwezige moleculen te analyseren om kankerbestrijdende eigenschappen te vinden.
Het onderzoek, dat deze week in het vooraanstaande tijdschrift Nature werd gepubliceerd, vond dat wortels, selderie, kool en koriander het hoogste percentage moleculen hadden die mogelijk tegen kanker kunnen werken. Veel van deze moleculen zijn flavonoïden, deze antioxidanten geven bepaald fruit en groenten hun opvallende kleur. Men hoopt dat flavonoïden kanker kunnen helpen voorkomen door ontstekingen te onderdrukken en celdeling te controleren.
Het onderzoek heeft ook een aantal bestaande medicijnen gevonden die mogelijk een rol zouden kunnen spelen in kankertherapieën, waaronder het diabetesmedicijn Metformine en antibioticum Rosoxacine. Deze medicijnen zijn al op de markt, wat wil zeggen dat ze met minder risico en sneller ingezet kunnen worden tegen kanker dan als je volkomen nieuwe therapieën ontwikkelt.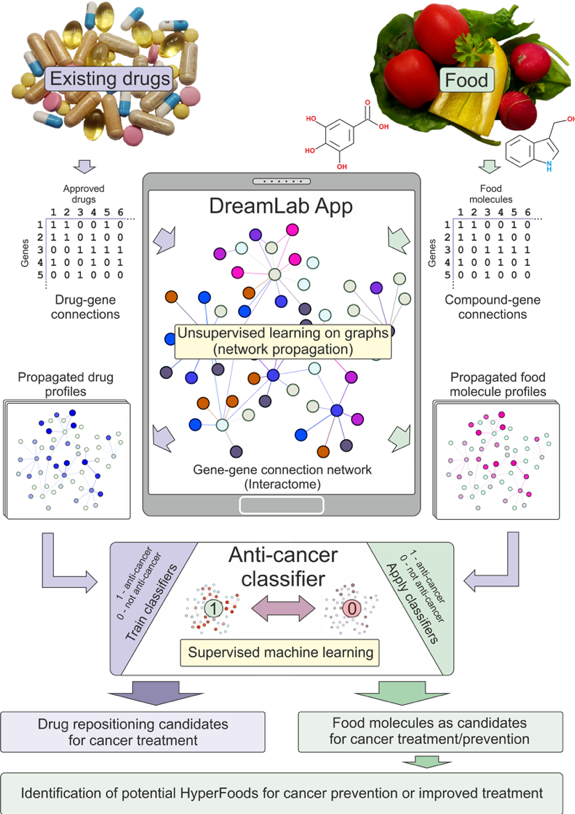 Schematisch diagram van de totale workflow van Project Drugs van DreamLab
Deze bevindingen zouden niet mogelijk zijn geweest zonder de DreamLab app en de duizenden 'dreamers' die het onderzoek wereldwijd steunen. 
De app, die in 2017 door de Vodafone Foundation gelanceerd werd in samenwerking met het Garvan Institute of Medical Research, is sindsdien uitgerold naar verschillende nieuwe Vodafone markten die nieuwe onderzoeksinstituten ondersteunen. Zo is er een internationaal mobiel samenwerkingsplatform ontstaan dat helpt het tempo van kankeronderzoek te verhogen – met de hulp van burger-wetenschappers.
Deze bevindingen zijn de tweede reeks die door een app zijn geproduceerd.  Het eerste project, Project Decode, waarvan de resultaten eind 2017 door het Garvan Institute werden gepubliceerd, vergeleek de eiwitstructuren van zes verschillende typen kanker. Die studie vond een nieuwe manier uit om kankers te definiëren – en isoleerde effectief 141 verschillende kankersubtypes.
Een beweging van burger-wetenschappers
Duizenden mobiele burger-wetenschappers in de hele wereld hebben DreamLabs Project DRUGS gesteund, waarmee onderzoekers van het Imperial College de data voor dit project binnen een jaar konden doorrekenen. Met traditionele rekenmethoden zou dit project tientallen jaren gekost hebben. Om het in context te plaatsen: een standaard desktop PC die 24/7 aanstaat zou 300 jaar nodig hebben gehad om de data door te rekenen, terwijl 100.000 smartphones die elke nacht zes uur aanstaan het werk in drie maanden voor elkaar hadden.
Hoewel dit erg bemoedigend is, is er nog veel meer onderzoek nodig om de mogelijke klinische eigenschappen van de moleculen te bevestigen.
Dr Kirill Veselkov van de afdeling Chirurgie & Kanker van Imperial College zegt:
DreamLab kun je gratis downloaden op iOS en Android. Gebruikers kunnen verschillende projecten over de hele wereld steunen waarin aan nieuwe ontdekkingen over kanker gewerkt wordt.
Om mee te doen hoef je alleen maar de DreamLab app te downloaden. Samen met duizenden anderen help je kankeronderzoek vooruit terwijl je slaapt.
Meer informatie over de resultaten van het DRUGS project van DreamLab en Imperial College London lees je in het volledige artikel in het tijdschrift Nature.