The most recent findings from the cancer-fighting DreamLab app have given us another reason to eat our vegetables.
The project by Imperial College London, identified hundreds of anti-cancer molecules in everyday foods including oranges, cabbages and grapes as well as identifying existing anti-diabetic and anti-microbial drugs that could potentially be re-purposed to target cancer.
Using AI and your grocery cart to help the fight against cancer
This project named DRUGS (Drug Repurposing Using Grids of Smartphones) combines Artificial Intelligence, mobile supercomputing, and big data to analyse billions of combinations of existing drugs and food-based molecules to help identify cancer-beating properties.
Published in the prestigious Nature journal, the research found that carrots, grapes, celery, cabbage and the much-maligned coriander had the highest number of molecules with the potential to help fight cancer. Many of these molecules are flavonoids, the antioxidants give brightly coloured fruits and vegetables their vibrant hue. It is hoped that flavonoids could help prevent cancer by suppressing inflammation and controlling cell replication.
The research also identified a number of existing drugs that could potentially have a role in anti-cancer therapies including the anti-diabetic drug Metformin and the antibiotic Rosoxacin. These drugs are already in use meaning their approval for use as cancer therapies may carry fewer risks, and would involve shorter timescales than developing completely new treatments.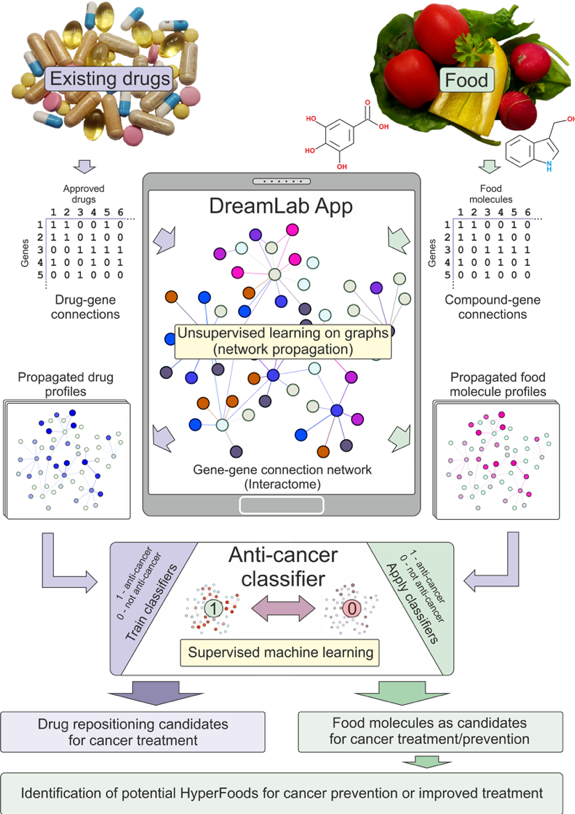 Schematic diagram of the overall workflow of DreamLab's Project Drugs
These findings would not have been possible without the DreamLab app and its hundreds and thousands of 'dreamers' powering the research, across the globe. 
Launched by Vodafone Foundation in partnership with the Garvan Institute of Medical Research in 2017, the app has expanded into several new Vodafone markets supporting new research institutions  – creating an internationally collaborative, mobile-friendly platform that is helping to speed up the pace of cancer research – all at the hands of citizen scientists.
These findings are the second to be delivered by app.  The first findings, Project Decode, were published by the Garvan Institute in late 2017, and looked at six different cancer types, comparing their protein structures. That study found a new way of defining cancers – effectively isolating out 141 different cancer subtypes.
A movement of citizen scientists
Thousands of mobile citizen scientists across the world powered DreamLab's Project DRUGS – allowing researchers at the Imperial College to crunch the data for this project in less than a year. Using traditional computing methods this project would have taken decades. Putting it into context: a standard desktop PC running 24-hours a day would take 300 years to process the data required, while 100,000 smartphones running six hours a night, could do the job in just three months.
Liam O'Brien, Director of Strategy and External Affairs, Vodafone Ireland  believes it's the groundswell of scientific innovation and a dedicated movement of global committed Dreamers that's helping drive faster results.  "Given that every 3 minutes in Ireland someone gets a cancer diagnosis, DreamLab really provides a chance for all of us to be a part of changing the tide – each and every night while we power the app and crunch research."
While these findings are encouraging, further research is needed to confirm any clinical properties of the molecules.
Dr. Kirill Veselkov, from Imperial College's Department of Surgery & Cancer, said,
DreamLab, is a free to download app available on i0S and Android. Users can choose to power several projects around the world working towards new cancer discoveries.
 "It's up to all of us to muck in and get this crucial research across the line.  The more people that download DreamLab, the faster it works – and the faster we can crack this thing," says Liam O'Brien, from Vodafone Ireland.
To be a part, simply download the DreamLab app, and join thousands worldwide, who are fast-tracking cancer research, all while they sleep.
For more information on the findings from DreamLab and Imperial College London's DRUGS project, check out the full report in Nature Journal.