by Pip Usher, Vodafone Group
When Roxanne* started her first full-time job at Vodafone three years ago, it was a conversation with her manager that set the precedent for how she shared her own sexual orientation. Although he was gay himself, he was initially surprised to learn of her girlfriend but quickly adopted a welcoming attitude, and invited them both along to events organised by Vodafone's LGBT+ Network. Over time, other colleagues also found out and, these days, Roxanne is completely open about her sexuality. "Having a manager who is gay, and knowing that we are such an open-minded company, it felt okay," she says.
Although Roxanne's experiences have been straightforward, a startling number of her contemporaries still experience intense pressure to hide their identity in the workplace. In a recent survey commissioned by Vodafone to measure the issues faced by young LGBT+ employees, it found that more than half hide their sexual orientation or gender identity because they fear discrimination from colleagues. The research by Out Now – which surveyed more than 3,000 young LGBT+ employees across 15 countries and multiple sectors – revealed that 58% hide their sexual orientation or gender identity at work. Reasons include worrying that colleagues would react negatively (60%), fearing their career prospects will worsen (42%), and concern that they'll be less likely to get promoted (33%).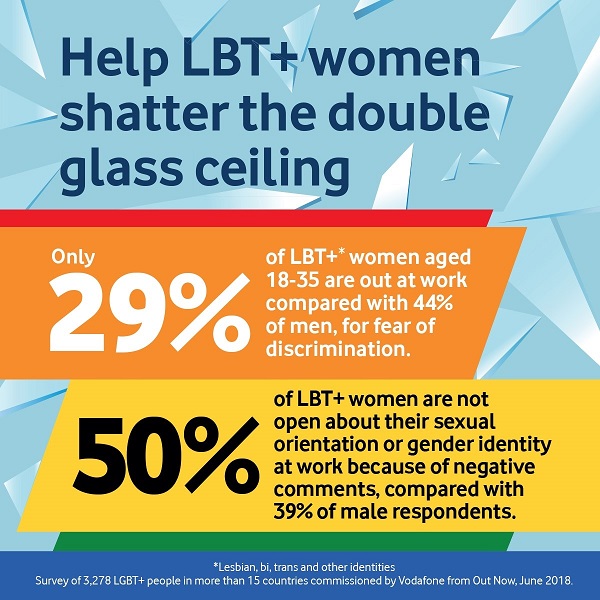 It's clear that pervasive discrimination against LGBT+ people still exists – so how do companies create an environment in which LGBT+ employees feel able to be themselves? The report's findings concluded that it's imperative for company policies to be incorporated in a visible and practical manner into daily working life so that employees can be reassured of an inclusive culture. Roxanne points to the Facebook group that Vodafone launched last year for its LGBT+ employees as an example of an initiative that she's found helpful. "We talk, share experiences and events, sometimes meet for a coffee," she says of the closed community, which is monitored by a member of HR to ensure it remains a safe space. The visibility of a senior LGBT+ figure at work – a manager, in Roxanne's case – also encouraged her to be comfortable talking about her own identity.
The research also showed that LBT+ women disproportionately face greater challenges at work, with those aged 18-35 significantly less likely to feel able to be 'out at all' than their male counterparts. In total, the survey revealed, only 29% are out at work compared to 44% of men, pointing to the 'double glass ceiling' where LBT+ women often have to face the combined prejudice of both sexist and homophobic (or biphobic or transphobic) attitudes.
Ian Johnson, CEO of Out Now says "The research we did with Vodafone shows that LGBT+ women face not only a glass ceiling but also unique circumstances specifically due to their sexual orientation or gender identity."
Businesses can do a lot to help by including discussions of their LGBT+ policies during recruitment, openly employing LGBT+ senior managers, and talking publicly about LGBT–friendly policies. The pay-offs are widespread: should they succeed in fostering a supportive workplace, they have a better chance of attracting top talent, retaining employees, and increasing productivity.
Ian Johnson adds: "Business is learning that it has a strong vested interest in helping LGBT+ people generally feel able to come out openly as LGBT+ at work. Each individual should be valued at work for them to reach their full potential - and getting that right is the challenge for business."
"You're going to lose someone with such potential, who would be such an asset to your company, just because they're gay," says Roxanne. "Make them feel welcome by team-building activities, show them during Pride that you care and want to be part of it… People appreciate these small things."
*Not her real name